Christmas comes early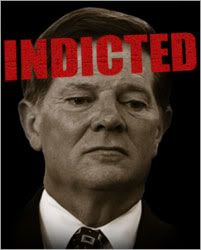 WASHINGTON Sep 28, 2005 — A Texas grand jury on Wednesday indicted Rep. Tom DeLay and two political associates on charges of conspiracy in a campaign finance scheme, forcing the House majority leader to temporarily relinquish his post. A defiant DeLay insisted he was innocent and called the prosecutor a "partisan fanatic."

"I have done nothing wrong. … I am innocent," DeLay told a Capitol Hill news conference during which he criticized the Texas prosecutor, Ronnie Earle, repeatedly. DeLay said the charges amounted to "one of the weakest and most baseless indictments in American history."

In Austin, Earle told reporters, "Our job is to prosecute abuses of power and to bring those abuses to the public." He has noted previously that he has prosecuted many Democrats in the past.


Here's a great website I saw at
My DD
that is tracking Repub corruption,
Daily Delay.
In all our excitement let's not forget this little gem:
Rep. Melissa Hart(R) has taken $15,000 from Tom DeLay's Political Action Committee.