what kind of people do you associate with, Melissa?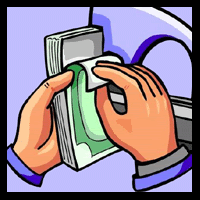 First it was the
dirty Delay money
she took, then it was the
money from and the letter writing for Abramoff
, now we find out she took Cunningham's embezzled money also:
It's common for lawmakers in safe districts, as Cunningham was, to use their campaign funds to boost fellow lawmakers prospects — thereby boosting their own popularity, too.

Other lawmakers who have announced they had donated the money or planned to do so were Reps. Mary Bono of California, Jim Gerlach and Melissa Hart of Pennsylvania, Rob Simmons of Connecticut, Michael Ferguson of New Jersey, Jon Porter of Nevada, Jeff Fortenberry of Nebraska and John Sullivan of Oklahoma.
That's quite the family values crowd you hang out with Ms. Hart.