Bush will DEFY the law until stopped by the Supreme Court or Congress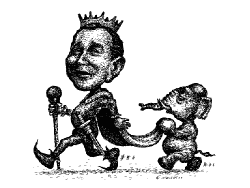 I get emails:
THE NEXT TWO WEEKS WILL DECIDE
IF DEMOCRACY WILL SURVIVE


Bush is now completely and certifiably out of control. But to remove the last restraint on the creation of a new American dictatorship they must install one more lock down vote on the Supreme Court, in the person of Sam Alito.
Despite Alito's extreme right wing voting record and lifelong ideological agenda, nobody expects him to show up at his hearing sporting a tail and horns wearing a red suit. Instead he will lie and evade like some Wal-Mart smiley face, just as he did when in his confirmation for the Court of Appeals he promised to recuse himself from cases involving his own investments. Then he fought to do precisely otherwise. He will make absolutely any misrepresentation of his views and his agenda to try to sneak past public accountability yet again, while his record shouts otherwise. And only your voices speaking out now can turn the tide against this judicial coup.
www.usalone.com/alito.php