how loved was MLK....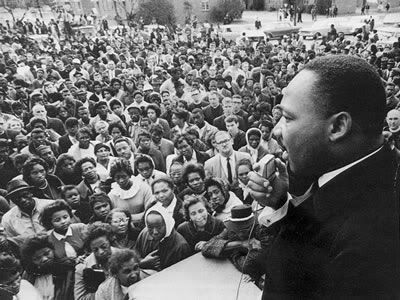 Martin Luther King, Jr was a preacher, moralist, a decent human being, recipient of the Noble Peace Prize who would not bow his head in apathy, or still his voice while his nation strayed from its professed reverence for justice and human life. His contributions were so dramatic and meaningful that they are universally appreciated. The entire world is the beneficiary of the efforts of this outstanding leader who brought millions of neglected and downtrodden people hope for living, and in so doing challenged the moral conscience of all people. Part of his universal appeal was that his philosophy of life was accessible, easily understood, recognised, and accepted by humanity. He challenged those committed to negativism to look inside themselves and to make brotherhood and equality a new possibility, and for others a meaningful reality.
Martin Luther King, Jr was a compassionate, honest, warm and wise individual with a clear sense of purpose, self-definition and internal balance, even today it is difficult to appreciate the magnitude of his greatness. He had many gifts, including an eloquence of speech that reached out to millions of people the world over. He was dearly loved by the oppressed, and despised by those who apposed him. He called a nation, and its people, to live out the true meaning of its existence and its heritage and in so doing infused his people with pride and the necessary determination to change their world. He made the oppressed feel that they were not alone, he gave hope to the poor, friendship to the lonely, understanding to the ignorant, and helped the lost find their way. His views and thoughts were breathtaking, yet simple, his vision spanned the whole of human conduct, and he had strength born of humility; he was a man of his times, for all times, and all nations.
Martin Luther King was an eloquent and powerful speaker whose words were infused with a poetic majesty that both stunned and uplifted his audience. All who heard him speak took pride in their own self-worth, their commitment to social change and justice was rekindled and greatly deepened. A young activist described his reaction to a speech Martin Luther King gave in Boston in 1963.
' I left the hall to walk back down the avenue to catch a bus home, I was so filled with pride and enthusiasm, I felt as if my feet were barely touching the ground as I moved along, it was a profound personal experience that I will never forget'. 1
Martin Luther King was born into a country where practically every southern state was segregated, a divided and unequal system made up the educational, economic, political and social landscape of the Old South. Schools were segregated, restaurants were off limits to black people, and hotels had no vacancies when a black face appeared. Theatres, housing, waiting rooms, lavatories, drinking fountains, public accommodation, the queues for purchasing a dog license were segregated. This within a nation which called itself the hope for the oppressed of the world, which had declared all men equal, which had promised freedom, and equal protection for all, a nation which had built its wealth upon the backs of slaves.
He was born at noon on a cold and cloudy Saturday, January 15th 1929 at the family home in Georgia; the doctor feared him stillborn and had to spank him several times before he cried. He was the first son and second child to the Reverend Martin Luther King, Sr. He was described as a precocious and intelligent child who pondered weighty issues and who spoke on advanced ideas that were always far beyond his years and experience. He was a child of the black middle class beginning his elementary education in Atlanta before attending Atlanta University, and then Morehouse College, completing his college education in 1953; his Ph.D. was awarded in 1955. It was during his college years he began a serious quest for a philosophical method to eliminate social evils, he read all the great philosophers. He began to ponder on what Gandhi called soul force, and the power of love and truth as a vehicle for social change. He later acknowledged his debt to Gandhi:
'When the protest began, my mind consciously or unconsciously was driven back to the Sermon on the Mount and the Gandhian method of non violent resistance' 1
He was acknowledged as a first rate scholar who fused the ideals and currents of his time into a worldview of liberation. He entered the Christian ministry and was ordained at the age of nineteen, after completing his studies he accepted the call of Dexter Avenue Baptist Church Montgomery Alabama, where he served from 1954 until 1959.
He accepted the presidency of the Montgomery Improvement Association, it was there that he first became an orator, an advocate, an historian, a fundraiser, a field general and a symbol.
Into this environment one day in 1955, Mrs Rosa Parks, a black seamstress, tires from a long day at work, took the first vacant seat on a bus in Montgomery, Alabama. Rosa Park's refusal to move to the back of the bus that was required of all black passengers, resulting in her arrest. Her arrest sparked that latent flame of self-worth resident in all people; it was the spark that ignited the flame that demanded an end to humiliation, intimidation and violence upon the soul and bodies of the oppressed black race of America.
In Montgomery Martin Luther King, Jr began a legacy of leadership, the cause was great; he felt a responsibility towards change, and he was not going to shirk it. He had no idea he was taking on a problem that would arouse the conscience of a nation, as a true leader he accepted the challenge and moved forward with it. The Montgomery boycott began, and he said that it was a drama of:
'Fifty thousand who took to heart the principle of non violence, who learned to fight for their rights with the weapon of love, and who, in the process, acquired a new estimate of their own human worth. It was a story of leaders of many faiths and divided allegiances, who came together in the bond of a cause they knew was right. And of followers, many of them beyond middle age, who walked to work and home again as much as twelve miles a day for over a year rather than submit to the discourtesies and humiliations of segregated buses…. The majority of the people who took part in the year long boycott of the Montgomery's buses were poor and untutored; but they understood the essence of the Montgomery movement. One elderly woman summed it up for the rest. When asked after several weeks of walking whether she was tired, she answered, 'my feet is tired, but my soul is at rest''. 2
Martin Luther King faced a nation that had been founded and governed by a people who had insisted on life, liberty, and the pursuit of happiness and freedom for all. Martin Luther King believed in the message of the founding fathers of the American constitution, and saw his country as a covenant whose peoples' bonding was fundamentally established in the Declaration of Independence:
'We hold these truths to be self-evident: that all human beings are created equal; that their Creator endows them, with certain inalienable rights; that among these are life, liberty and the pursuit of happiness'.
He said that America could not be true to this vision and to the very basis of the founding of the nation until this fundamental right applied to all, equally and to fulfil the promise and the dream of true democracy. In seeking to accomplish this he committed himself to the dignity of every human being, even to those who considered themselves to be his enemies, he believed that even they had dignity as human beings worthy of his respect, despite the error of their ways. -
Link