oh happy day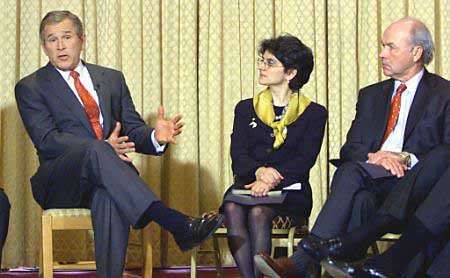 With the "faith in justice" restoring conviction of Ken Lay today, it might be a good time to remember the special relationship between Bush and "Kennyboy" Lay. When the trouble for Lay first started, Bush tried to distance himself from Lay.
From a 2002
Salon article:
As Washington became engulfed in the Enron firestorm Thursday, President Bush made what may be the biggest misstep of his year-old presidency -- attempting to distance himself from Enron and its former chairman and CEO, Ken Lay, even though the company and its executives have given more than $550,000 to Bush during his short political career.

"He was a supporter of Ann Richards in my run in 1994," Bush said of Lay, "and she named him the head of the Governor's Business Council. And I decided to leave him in place, just for the sake of continuity. And that's when I first got to know Ken, and worked with Ken, and he supported my candidacy."

But later in the same article we find that Lay was a big supporter of Bush:
According to records provided by Texans for Public Justice, a political watchdog group that monitors political giving in Texas, Bush received $25,000 from Lay by the end of 1993. Throughout his run for governor in 1994, Bush received more than $146,000 from the Lay family and other Enron execs. Ken and Linda Lay contributed $47,500 to the Bush campaign ($10,000 of that money came on Dec. 1, 1994, after Bush was already elected); the Enron political action committee (PAC) chipped in another $20,000, and other Enron executives gave Bush $79,000.

The
Smoking Gun
has a collection of letters between these good buddies:
The Bush-Lay Letters
Correspondence suggests chummy President-Enron boss relationship

JULY 8--With the FBI slapping handcuffs on Kenneth Lay this morning, let's take a stroll down memory lane, when the disgraced former Enron boss wasn't under indictment and had a cozy pen pal relationship with George W. Bush. Below you'll find an assortment of correspondence exchanged during the years Bush was governor of Texas and Lay ran the Houston-based energy giant. The letters, released by the Texas state archives in response to Freedom of Information requests, touch on personal matters like Bush's knee surgery, Christmas gifts, birthday greetings, and even a Lay heads-up regarding a Thomas Friedman story about globalization. Enron, in case anyone forgot, was Bush's biggest Lone Star political contributor. (8 pages)

This has got to be a happy day for many ex-Enron employees. Ken Lay should always be referred to as "Bush supporter Ken Lay" or "Bush's best friend Ken Lay."