Chickenhawk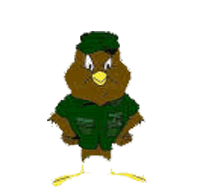 On Hannity and Colmes, Lowry and Simmons teamed up to smear Murtha

[snip]

On the July 21 edition of Fox News' Hannity & Colmes, former CIA operative and frequent Fox News guest Wayne Simmons joined guest co-host Rich Lowry in smearing Rep. John P. Murtha (D-PA). Lowry, who is also the editor of National Review, asserted that Murtha was "again sounding like the grim reaper when it comes to the war on terror," addressing Murtha's claim that the war in Iraq is "depleting our resources" for handling other problems around the world. Lowry also asked whether Murtha has "already decided to undermine another American war effort."
It takes guts to smear a respected patriot like John Murtha. Here's a blurb on Murtha's
Military/defense service to his country:
Congressman Murtha is so well-respected for his first-hand knowledge of military and defense issues that he has been a trusted adviser to presidents of both parties on military and defense issues and is one of the most effective advocates for the national defense in the country. He is ranking member and former chairman of the Defense Appropriations Subcommittee, a Vietnam combat veteran and a retired Marine Corps colonel with 37 years of service, a rare combination of experience that enables him to understand defense and military operations from every perspective.

He learned about military service from the bottom up, beginning as a raw recruit when he left Washington and Jefferson College in 1952 to join the Marines out of a growing sense of obligation to his country during the Korean War. There he earned the American Spirit Honor Medal, awarded to fewer than one in 10,000 recruits. He rose through the ranks to become a drill instructor at Parris Island and was selected for Officer Candidate School at Quantico, Virginia. He then was assigned to the Second Marine Division, Camp Lejeune, North Carolina. In 1959, Captain Murtha took command of the 34th Special Infantry Company, Marine Corps Reserves, in Johnstown. He remained in the Reserves after his discharge from active duty until he volunteered for Vietnam in 1966-67, where he served as the S-2 intelligence officer for the 1st Battalion, 1st Marine Regiment, 1st Marine Division and received the Bronze Star with Combat "V", two Purple Hearts and the Vietnamese Cross of Gallantry. The official notification of award for his Bronze Star and Purple Hearts are available to view here. He remained in the Reserves until his retirement. This first-hand knowledge of military and defense issues has made him a trusted adviser to presidents of both parties and one of the most effective advocates for the national defense in Washington. At the request of Presidents and Speakers of the House, he served as chairman of delegations monitoring elections in the Philippines, El Salvador, Panama and Bosnia.

He was awarded the Navy Distinguished Service Medal by the Marine Corps Commandant when he retired from the Marines.

Now a bit about Lowry's military service:
{crickets chirping}