another republican strawman knocked down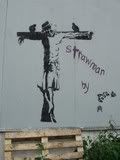 Voter ID ploy stands on lame fraud claims

Published on: 09/24/06
Last week, the GOP-dominated House passed a measure requiring voters to show government-issued photo IDs to vote in federal elections by 2008.

"Americans should have their votes counted, and not negated by an illegal alien," said U.S. Rep. Dan Burton (R-Ind.)

Similarly, Georgia Gov. Sonny Perdue and his state Republican colleagues have backed a stringent state requirement for government-issued photo IDs. (Last week, Fulton County Superior Court Judge T. Jackson Bedford struck down Georgia's voter ID law, ruling it violates the state's constitution. The state said it will appeal.)

Announcing a plan this month to crack down on fraudulent documents, Perdue said, "It's simply unacceptable for people to sneak into the country illegally on Thursday, obtain a government-issued ID on Friday ... and go to vote on Tuesday."

Now, you can be forgiven if you've never heard of a single case in which an illegal immigrant successfully used a fake ID at the polls. Neither Burton nor Perdue presented evidence of any such cases.
So the Republicans invent an imaginary problem then use it as an excuse to suppress even more votes. And then we find out today that their bullshit has been debunked and the proof's been supressed for four months, giving other states time to pass voter supression laws.
Report refutes fraud at poll sites
Updated 10/11/2006 12:32 PM ET

By Richard Wolf, USA TODAY
WASHINGTON — At a time when many states are instituting new requirements for voter registration and identification, a preliminary report to the U.S. Election Assistance Commission has found little evidence of the type of polling-place fraud those measures seek to stop.

USA TODAY obtained the report from the commission four months after it was delivered by two consultants hired to write it. The commission has not distributed it publicly.

At least 11 states have approved new rules for independent voter-registration drives or requirements that voters produce specific forms of photo ID at polling places. Several of those laws have been blocked in court, most recently in Arizona last week. The House of Representatives last month approved a photo-ID law, now pending in the Senate.

The bipartisan report by two consultants to the election commission casts doubt on the problem those laws are intended to address. "There is widespread but not unanimous agreement that there is little polling-place fraud, or at least much less than is claimed, including voter impersonation, 'dead' voters, non-citizen voting and felon voters," the report says.

[snip]

That's one reason the commission decided not to officially release the report. "There was a division of opinion here," Chairman Paul DeGregorio says. "We've seen places where fraud does occur."

The consultants found little evidence of that. Barry Weinberg, former deputy chief of the voting section in the Justice Department's civil rights division, reviewed their work. "Fraud at the polling place is generally difficult to pull off," he says. "It takes a lot of planning and a lot of coordination."

Posted 10/10/2006 10:54 PM ET
The Democrats have got to take over congress....