the people have spoken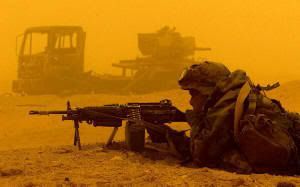 Sign up Come on
This one's nothing like Vietnam
Except for the bullets
Except for the bombs
Except for the youth that's gone
-
Michael Franti
Someone tell the Pentagon there are not three choices, going forward in Iraq. There's only one.
Someone tell St. McCain.......more troops will just get more people killed.
Somebody tell Obama the time to start leaving Iraq is now, not 4 to 6 months from now. He doesn't get it.
Nancy Pelosi gets it. Even with all harassment she's taken from the media, since the election, she refuses to be distracted. From her own lips: ('er keyboard)
This morning, I visited our brave men and women at the Bethesda Naval Medical Center. It is a place of prayers, of honor, of respect, and reflection. And I left there more committed than ever to bringing the war to an end.

I told my colleagues yesterday that the biggest ethical issue facing our country for the past three and a half years is the war in Iraq.
This unnecessary pre-emptive war has come at great cost. Nearly 2,900 of our brave troops have lost their lives and more than 21,000 more have suffered lasting wounds. Since the war began, Congress has appropriated more than $350 billion, and the United States has suffered devastating damage to our reputation in the eyes of the world.